One week ago, today, I was crowned Miss State Fair 2018 and took the first step toward Miss South Dakota 2018. As you may know, I recently moved to Nashville, TN for graduate school at Vanderbilt University. Making a trip home for the South Dakota State Fair was nothing short of amazing. I grew up on a family farm just outside of Huron, where the South Dakota State Fair was like rolling out the red carpet for the Queen of England. This year was, of course, no different. Almost better, because I got to compete for the title of representing the South Dakota State Fair for an entire year! WHAT. Since I began competing, the Miss State Fair title has been a dream. A dream that is now a reality!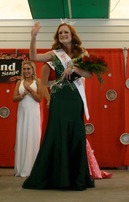 On Friday night, I rolled into our family's driveway around midnight – overcome with a warmth that only the familiarity and love of HOME can bring. Annie and Kaitlin – some of my dearest friends in the Miss SD family – welcomed me home by scaring the living daylights out of me. The weekend was especially memorable, as my Grandma Jackie was there from Texas to share in the fun.
Saturday morning came quickly, but that meant I would be at the South Dakota State Fair in merely minutes! Walking through the gates of the State Fair was like walking into a town full of energy, passion, mini-donuts, and everything South Dakota represents. That is why I LOVE the State Fair. It captures everything that is uniquely beautiful about South Dakota in a five-day glimmer of wonder.
The contestants had our interviews in the morning, with the show starting promptly at 2pm. My favorite part of the competition was playing my piano piece, The Final Countdown. There is nothing quite as special as looking out into the crowd, seeing your friends and family, and knowing that YOU are more than enough. Regardless of what happened on that stage, I had a group of people that loved me unconditionally. I am enough.
In addition to being crowned Miss State Fair 2018, I was also awarded the Mary Ellen Vaillancourt Kindness Award. Mary Ellen was the Executive Director of the Miss State Fair pageant, before she lost her battle with cancer. Her daughter, Loren, is a former Miss South Dakota. The award was set up in honor of Mary Ellen and is awarded to the contestant that the judges feel is genuine, sincere, and kind. It was a true honor to receive this award.
The South Dakota State Fair pageant is probably the only pageant where I walk on stage in my swimsuit as cattle, sheep, and goats trot by. Just think – those cows are probably so confused about what the heck is going on. It is also the only pageant that I am literally dripping in sweat, from head to toe, as we take pictures. How cool. How fun. How South Dakota. To top it all off – I talked about mini donuts in my introduction!
Here's to a fabulous year, living my best life, as Miss State Fair 2018.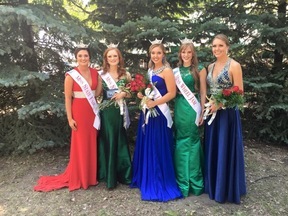 Photo Credit: Huron Plainsman