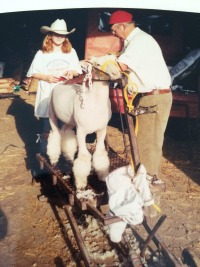 The South Dakota State Fair is my favorite holiday - even better than Christmas. I grew up going to the State Fair every single year. As an avid 4-Her, I spent much of my fair caring for my livestock and prepping them for show. In fact, my favorite memory from the fair revolved around my sheep. I woke up at the crack of dawn. This is my favorite time to be walking around the fairgrounds because everything is quiet. The sun comes up over the fairgrounds, the air is crisp, the sheep bleet, and the roosters howl a cock-a-doodle-do. My dad and I walked over to Pester's Mini-Donuts at exactly 7am to get the first batch of fresh donuts. We stroll back to the 4-H livestock barns to feed and water the sheep. Before the heat of the day hits, we spend the morning washing the lambs, giving them a fresh haircut, and placing a coat on their back to protect our hard work from the ever-present sheep poop. My family spends the rest of the day enjoying all the exhibits at the fair. I always look forward to walking into the Expo Center to an overwhelming aroma of cinnamon roasted nuts.
This year, I get to return to the South Dakota State Fair as the Featured Author. Stop by the Education Building on the fairgrounds on September 3 to learn more about Money $heep, chat with me, and get your copy of Mr. Money $heep. You can bet I will be the first in line at Pester's Mini-Donuts on Sunday morning to fuel up before an exciting day of Money $heep adventures.
I look forward to seeing you there.